LJHS raised 1261.00$ to help support Agape
[B3529:2015-05-12]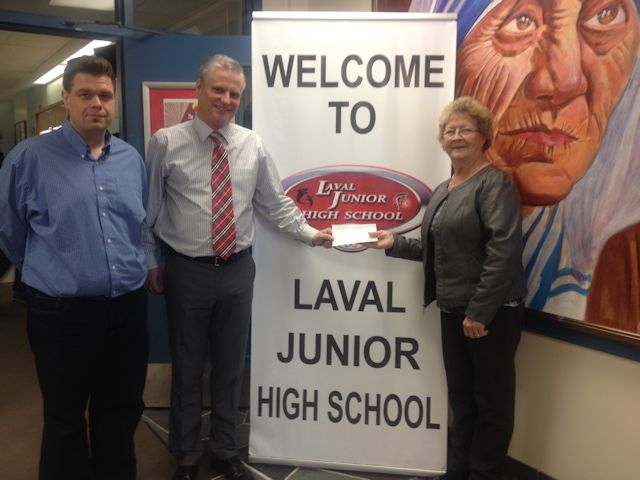 April 23 - Soccer News
[B3484:2015-04-23]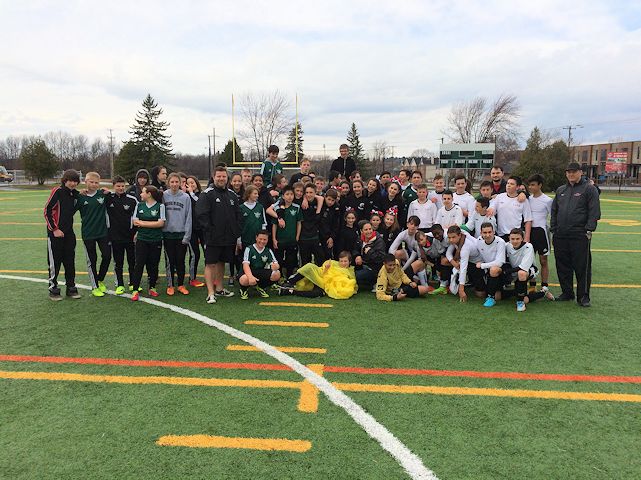 Two soccer concentration programs came together to play a great 2-2 draw at the bantam level.
Rosemere High School played Laval Junior in an entertaining game supported by cheerleaders from both teams.
Next week Rosemere High School Soccer Concentration Program plays Laval Liberty Soccer Concentration Program at the cadet and juvenile level.
LJHS IS WORKING ON BUILDING A NEW FOOTBALL LOCKER ROOM
[B3476:2015-04-21]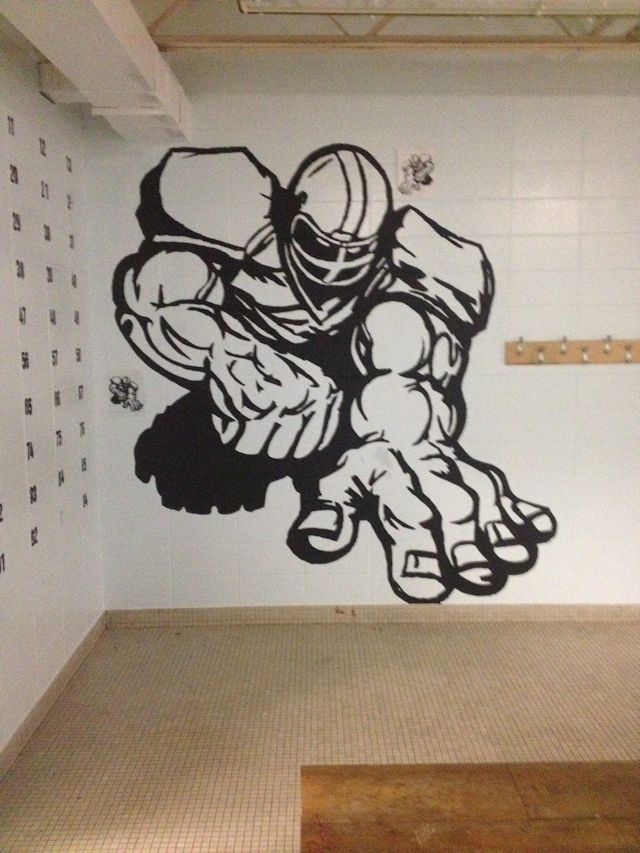 Silver Medal Finish at "Rhythms International" Montreal.
[B3468:2015-04-20]
Congratulations to Mme. Lefebvre and the Laval Junior H.S. Concert Band on their silver medal finish at "Rhythms International" music festival in Montreal.
The ensemble gave a fantastic performance and they earned their designation of "Excellence".
Bravo
Socks Project for the Homeless
[B3485:2015-04-23]
April 14 - Socks Project
On Tuesday April 14th, LJHS students went to Reliable Hosiery to volunteer sorting through socks to be given to homeless shelters. Reliable Hosiery is located on Avenue du Parc in Montreal. Reliable Hosiery is owned and operated by Herman Gruenwald, Hungarian Jew, Shoah (Holocaust) survivor, and Canadian businessman, philanthropist. Mr. Gruenwald is an accomplished author, AFTER AUSCHWITZ. One man's story. Born into privilege in Hungary, Hermann Gruenwald's idyllic childhood came to an end in 1944 when he and his family were sent to Auschwitz. During his incarceration Gruenwald's instinct for survival helped him live through three concentration camps. His story, "After Auschwitz", recounts his experience not only as a witness to history but as a human actor determined to make his way in whatever situation he found himself. The children had the opportunity to meet a WWII survivor; they experienced what it is like working in a factory; organizing and sorting miss-matched socks to be donated to various homeless shelters in the Laval and Montreal areas.
LJHS students planted some flowers in the fall
[B3527:2015-05-11]
Other News
UPDATE - IMPACT SOCCER GAME DAY CHANGE!!!
In order for the Montreal Impact to get ready for Champions League Final, the game of April 18th has been rescheduled. Therefore, we have changed our SWLSB GAME DAY to Saturday June 20th at 8:00 p.m. at Saputo Stadium.
Anyone who purchase tickets to April 18th game, will have their tickets printed for June 20th game and they will be sent to the school the week of June 1.
If you are not available on June 20th, you may choose a different game. If this is the case, please get in touch with Hagop at hagop.hatchadourian@impactmontreal.com
to make arrangements for either another date or a refund. The Montreal Impact apologizes for this inconvenience.
Anyone wishing to purchase tickets to this game can go online at:
http://sirwilfridlaurier.impactmontreal.com/

Laval Junior High School
2323 Blvd. Daniel Johnson, Chomedey, Laval, QC, H7T 1H8 Tel. (450) 680-3044
Principal: Richard Mason

If there is a picture of your child on the web site that you would like removed please contact the Vice-Principal. Indicate in your email the exact location of the photo on the web site.